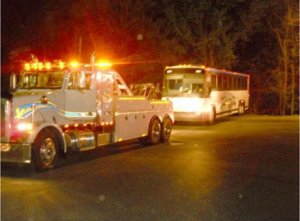 Ok, here's another one from the "uhm wtf?" file. A bus operator for Greyhound buses crashed into a wooded area –but get this, the bus operator forgot to set the parking brake after she parked the bus at a travel center in North Carolina.
The bus traveled backwards across Highway 61 and somehow wasn't hit by cars traveling on the highway. The bus came to rest in the wooded area on the other side of the highway.
Fox8 news in Greensboro, NC has the details on the incident. Can you imagine the shock the bus driver must have received? She parks the bus, heads into the travel center, grabs some food, maybe a scratchoff, uses the restroom, comes outside and finds her bus traveling backwards across the highway.
Maybe Greyhound should play the same (very annoying) announcement you hear in the San Francisco airport when you take the airtrain. As it pulls into the station, we hear "we are entering the station, set luggage cart brake to on".