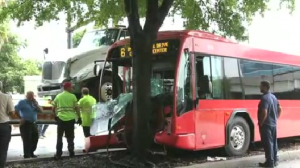 Twelve people riding in a Lynx bus were injured Wednesday morning in a crash with a tractor-trailer in downtown Orlando.
All 12 were sent to the hospital with various non-life threatening injuries, police said. Initial information shows the tractor-trailer driver was a fault, said police spokesman Sgt. Vince Ogburn
Orlando police briefly shut down Hughey Avenue near Amelia Street while debris from the crash was cleared. An investigation is ongoing.