Eight children heading to Virgil Mills Elementary School, Ellenton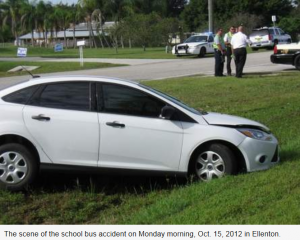 were injured Monday morning in a school bus accident on 69th Street East, just west of the Buffalo Creek Golf Course.
Seven were taken to Manatee Memorial Hospital, and one was taken to Lakewood Ranch Medical Center with "very minor injuries," said Manatee County EMS Lt. Jake Saur, after a 2012 Ford Focus collided with the bus.
Saur said there were 59 children on the school bus, and in addition to those taken to the hospital EMS personnel evaluated 17 at the scene. The bus had minor damage and was driven on to the school, Virgil Mills Principal Mike Rio said.
"It appears to be just minor bumps and bruises, but we're definitely going to act on the side of caution," Rio said. "Make sure all the parents are contacted, and if there's any doubt at all we're sending them in to be evaluated."
The driver of the car, Daniel Newcombe, 21, of Parrish, said he had been having trouble with the clutch on the car for about a week and that it "got jammed." He tried to stop at a stop sign, he said, and could not get the car to stop moving forward, even with the emergency brake on.
According to the Florida Highway Patrol, Newcombe was driving south from the entrance to Buffalo Creek Park approaching 69th Street East, and the bus was going west on 69th Street East. Newcombe turned left into the path of the bus, and the driver of the bus, Tyeise A. Davis Evans, of Palmetto, veered to the left to try to avoid a collision.
The left front of Newcombe's car hit the right front of the school bus. The car rotated clockwise into the north shoulder of 69th Street East, hit and knocked down a traffic sign and ended up in a ditch.
FHP Trooper John McGrede said Newcombe will be charged with failure to yield the right of way.
McGrede said Newcombe passed roadside tests for impairment.