AUBURN, Calif. (KCRA) —
A school  bus was towed from the backyard of an Auburn home Monday morning after it rolled  down a slope and through a wooden fence, police said.
The incident involved a local Durham school bus service  provider.
The bus was being prepared  for a local field trip when it rolled. The parking brake wasn't set, according  to a California Highway Patrol spokesman.
No  students or driver were on board at the time. No one was in the backyard either,  therefore, no one was hurt.
The home  is on Bosal Circle, near Richardson Drive.
Two  fences and two properties sustained damage, the CHP said.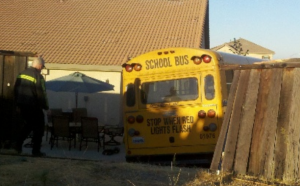 After doing some online searches, I discovered that their are "Brake Alert Systems" that are available that alert the driver with both visual, and audible alerts upon leaving the drivers seat, if the parking brake is not set. One company that specializes in these type of systems can be found at, www.safetybrake.com
If, "Automated Safety Systems" were mandatory safety equipment on these types of vehicles, maybe, just maybe, accidents like these could be a thing of the past.