A car accident in the San Francisco area involving a runaway Muni bus resulted in injuries for a female driver the evening of April 17, 2011. The San Jose Mercury News reports that the injury car accident occurred near the intersection of San Jose Avenue and Mission Street in Daly City. Officials say the bus was improperly parked, rolled down the roadway and crashed into the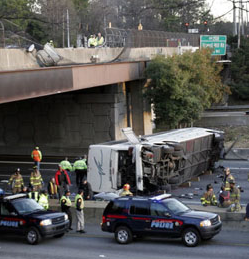 victim's vehicle. She was trapped in the vehicle and was transported to a local hospital with injuries, but is expected to survive. Officials are investigating the cause of the incident.
It is indeed fortunate that the victim of this bus accident escaped without major injuries. I pray that she recovers quickly and completely from her injuries.
Car Accidents
There were 36 deaths and 2,673 injuries involving car accidents in San Mateo County in 2008, according to California Highway Patrol's Statewide Integrated Traffic Records System (SWITRS). In Daly City, three people were killed and 248 were injured as a result of car accidents during the same year.
What Caused this Accident?
It is not clear from this report as to what caused the bus to roll away and strike the victim's vehicle. It is also not clear whether the bus driver was in the vehicle at the time. There are several questions here. Was the bus driver negligent or inattentive? Was the driver following proper procedures? Did the accident occur due to a defective parking brake? Did a brake failure occur because of poor bus maintenance? I trust officials are looking into these and other issues in order to determine what occurred here and why.
Victims' Claim for Compensation
In such cases, injured victims would be well-advised to seek the counsel of a knowledgeable San Francisco personal injury lawyer, who will analyze all facets of the incident and make sure that the negligent parties are held accountable. If the bus driver is determined to have been at fault, both the driver and his or her employer can be held liable. Please remember that any personal injury claim against a California public entity must be filed within six months of the accident or injury.
Seriously injured in a San Francisco Muni accident? Want to know if you have a case? Want to know what your case is worth? Want compensation for your injuries? Want justice? Want to make sure the same thing doesn't happen to someone else?